You all know that our little blob, Inky, turned 3 this week and you're all invited to his birthday party!
We're so grateful for having over 300.000 creative professionals by our side. So we thought of a way to reward you by hosting a huge giveaway where everyone is a winner!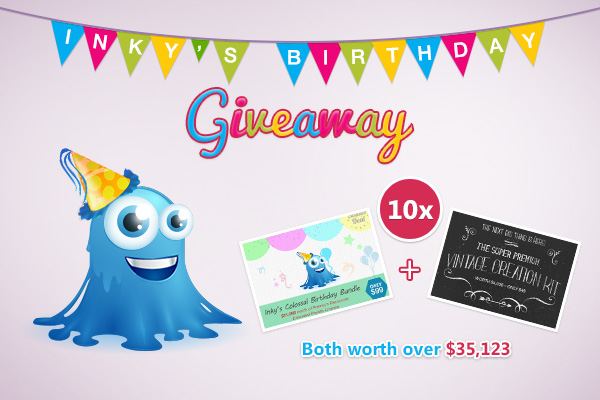 What are the prizes?
– Everyone who participates in this Giveaway will receive a free pack with $155 worth of premium design resources at the end of the contest.
– The first 3 winners will get a package with two most popular bundles: Inky's Colossal Birthday Bundle: $31,088 worth of Premium Royalty-Free Resources – Only $99 and The Super Premium Vintage Creation Kit: $4,035 worth of Resources – From $34.
– The winners from 4th to 10th place will each receive a free copy of Inky's Colossal Birthday Bundle.
Here's a preview of the free pack:

How to enter the contest:
Leave a comment with a message for Inky's Birthday. He's always happy to hear from you, so go ahead and send him your best wishes on his 3rd anniversary!
The giveaway ends Tuesday, October 7th. The winners will be chosen through random.org and announced on October 8th on Inky's blog and through e-mail.