2
mins read
The time has come to announce the winners of the Inky's Birthday Giveaway: Free Sample For Every Entry + 10 Biggest Bundles Ever. It's been an awesome week at the Inky Deals headquarters, due to your wonderful comments.
We just loved your thoughts about Inky! It's amazing how a simple "Happy Birthday" or a funny poem can bring a smile on everybody's face. We just want to tell you that Inky loves you all!
On behalf of Inky and the entire team, thank you for your heartfelt comments. As we said before, you are all winners! Everyone who wished Inky a "Happy Birthday" will receive a free pack with $155 worth of premium design resources today. So keep an eye on your inbox for your gift!

The Lucky Winners of the Biggest Bundle Ever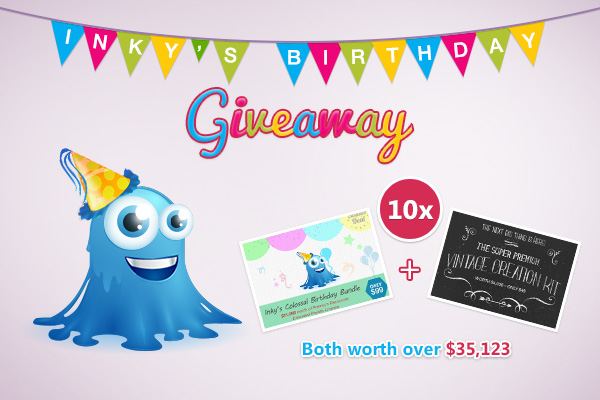 Now, let's meet the lucky winners! The first 3 winners got a package with two most popular bundles: Inky's Colossal Birthday Bundle: $31,088 worth of Premium Royalty-Free Resources – Only $99 and The Super Premium Vintage Creation Kit: $4,035 worth of Resources – From $34.
The winners from 4th to 10th place will each receive a free copy of Inky's Colossal Birthday Bundle.
1.  Daniel – "Happy Birthday Inky !! I hope you grow more and I see"
2. Val – "Happy Inky-Day 😀 "
3. Ilene – "Happy birthday to my favorite little blue blob!"
4. Krista – "Happy Birthday!"
5. Jenny – "Happy Birthday INKY!"
6. Marie-Claire – "Happy 3rd Birthday Inky !
Love the site, great deals, continue …
Congratulations to the Team."
7. Ross – "Happy birthday inky. 3 years young"
8. A. Keach – "Happy Birthday big guy! Thanks for all your great stuff!!"
9. Christopher Klasinki – "It's Inky's Birthday
Today He's Three
When He's in the Pink
He'll Have 33 More!"
10. Paul – "Keep the Great Deals Coming!
Happy Birthday Inky!!!!"